Julie Amero Gets a New Trial
Judge Hillary Strackbein this morning granted a motion for a new trial for Julie Amero.

The judge's decision is based on evidence that shows some of the computer evidence shown at court was inaccurate.

A new trail date has not been set. Amero has entered a not guilty plea.
From the Hartford Courant, Rick Green writes:
In setting aside the guilty verdict, Strackbein ruled that the witness the state presented as a computer expert, a Norwich police detective, provided "erroneous" testimony about the classroom computer.

"The jury may have relied, at least in part, on that false information," said Strackbein.
Truth, Justice and the American Way: 1 Mark Lounsbury: 0
And this, again from Rick Green:
But today, Smith said state would take no position on Dow's motion for a new trial, making it unlikely she will be tried again. Smith also acknowledged that erroneous information about the computer was presented during trial.
Update#2 Raw Video News Feed: It has some excellent and interesting comments from the experts involved.
Update: The Day.com's article, and a screenshot of their page with a terrific photo from the Hartford Courant (more here):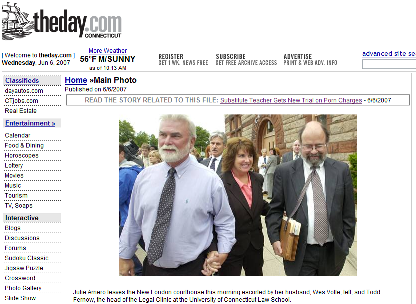 Technorati Tags: julie amero, justice, malware