In Memory of Larry LaMotte: Be Safe at the Beach
Last year I told you about my friend Sandee and the tragic drowning of her husband, CNN Reporter Larry LaMotte. I asked Sandee if she would like to post a message directly to the blog in tribute to Larry. The following is what she asked me to post. Today is a difficult day for her. Despite the passage of time, some anniversaries never become less painful. I know that if even one of you is more careful and takes her story into account, she will feel a little less pain. I love you Sandee, and miss Larry, too.
Sandee's Message: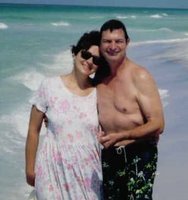 June 8, 2007. Four years ago today a rip current took my husband's life.
It plays in my head like a movie. It was about 6 pm Florida time. I had just left Larry and the kids playing on a boogie board in the waves at the shoreline, walked the 100 yards from the beach and was washing lettuce at the sink when the kids burst in the front door of the cottage.

"Mommy, Mommy! Ryan couldn't get his boogie board to come forward and Daddy went in to help and now Daddy's gone!"
By the time I got to the beach Larry was dead. Floating face down in the waves. It took 20 agonizing minutes and the life of another before Larry's body was rescued. Yes, another father, Ken Brindley, also lost his life to the rip current trying to help Larry. He left behind a loving wife and two small children. Somehow that is the hardest thing for me to face.
Here's the catch: this wasn't a freak accident. Six more people died that day in the rip currents along the Florida panhandle. Most of them drowned before Larry, the kids, and I set foot on the beach that day.
Why We Didn't Know
Why didn't we know there was danger? We were ignorant of rip currents. We lived inland, as most beach vacationers do, and our experience with water was the occasional boat on the lake or dip in the neighborhood swimming pool.
One of the women who drowned in Destin that day was actually a pool lifeguard. Rip currents are different, and if you don't know how to face them, you can be an Olympic swimmer and still die battling the current.
There were no warnings. Contrary to what Walton County officials said at the time (this occurred at Grayton Beach, Florida, in Walton County, voted one of the most beautiful beaches in the nation), there were no bullhorns, no sheriff deputies pulling people out of the water — in fact the one deputy on the scene at 4 pm calmly drove past the crowd of bodies in the water and off the beach. There was a red flag, but the warning was obscure: "Red means there could be dangerous currents in the water." No indication that currents occur at the shoreline and can suck you out to the depths within seconds. We looked across the crowds and decided the warnings were for the silly surfers riding those distant waves.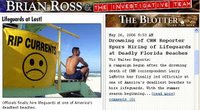 There were no lifeguards either. There are now, after an ABC 20/20 story by investigative reporter Brian Ross ran in July of 2005. Finally, an embarrassed Walton County decided to put lifeguards on five of their many beaches. Only five, but it's a start. Last year lifeguard director Gary Wise and his small crew rescued 21, assisted over 400, and educated over 50,000 on the dangers of rip currents.
But there have been more deaths. Two more drowned this year near Grayton Beach (which still doesn't have a lifeguard, but that's another story). And here is the moral of my story:
Don't swim where there are no lifeguards. It's not the sharks that will get you, it's the currents. Consider these facts from the U.S. Lifeguard Association:
Rip currents kill over 100 people a year — a toll that puts them ahead of lightning (66) and hurricanes (17). Rip currents can occur at any surf beach with breaking waves, including the Great Lakes.
More than 80 percent of all lifesaving rescues reported each year by the U.S. Lifesaving Association are a result of people caught in rip currents.
USLA statistics indicate that the chance of death by drowning at a beach protected by lifeguards is 1 in 18 million.
Next, educate yourselves. Teach your children too. In most cases, simple actions such as not panicking, not fighting the current and swimming parallel to the beach would have enabled the victims to save themselves. In fact, that's exactly how an educated bystander helped my Ryan get safely out of the water. But by then Larry was far out in the waves, and he did not know the USLA's basics of rip current survival:
Remain calm to conserve energy and think clearly.
Never fight against the current.
Think of it like a treadmill that cannot be turned off, which you need to step to the side of.
Swim out of the current in a direction following the shoreline. When out of the current, swim at an angle–away from the current–towards shore.
If you are unable to swim out of the rip current, float or calmly tread water. When out of the current, swim towards shore.
If you are still unable to reach shore, draw attention to yourself by waving your arm and yelling for help.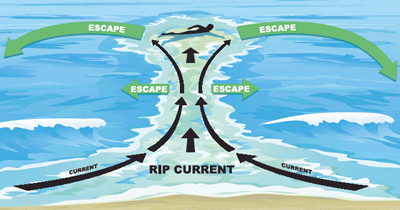 .
The USLA also stresses that if you see someone in a rip current, don't go in after them, because you (like Ken Brindley) could become a victim too. Instead:
Get help from a lifeguard.
If a lifeguard is not available, have someone call 9-1-1.
Throw the rip current victim something that floats–a lifejacket, a cooler, an inflatable ball.
Yell instructions on how to escape.
Remember, many people drown while trying to save someone else from a rip current.
Please, share this with everyone you know. Educate everyone about how to survive a rip, but more than that, seek out lifeguards. Don't swim without them, and if your favorite vacation spot doesn't provide them, demand they do. It's your life on the line, and it's their responsibility to protect it.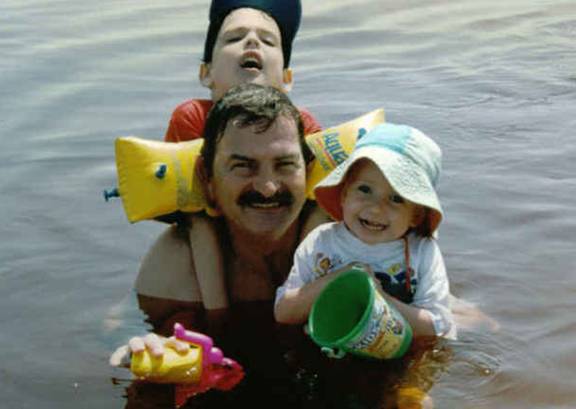 .

Technorati Tags: water safety, rip currents, Larry LaMotte, lifeguards, beach safety, summer