Terrorists Don't Wear Lights
My in-laws left for Boston yesterday and were scheduled to land just about the time we heard the first report of a suspected terrorist at Logan airport. We stayed glued to the TV and a bit later the report was revised to say that a 19-year old MIT student was arrested for carrying a fake bomb. Here it is: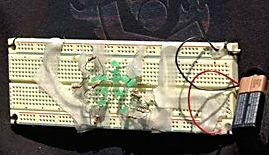 Read the whole story on BoingBoing. You can also see other examples of her work at Instructables.
Bad judgement, yes, but on the other hand…did anyone do a reality check when they actually looked at the "device" and ask themselves whether terrorists would wear their bomb in plain view?
Technorati Tags: star simpson, boingboing, MIT, TSA, bomb hoax